Our Veterinarians
North End Pet Hospital has a skilled team of veterinarians who welcome you to our practice. We Proudly serve the Tacoma area. At North End Pet Hospital, it is our daily privilege to provide quality vet care to your cherished pet, with compassion and competence. We hope to ensure a positive impact on our patients, pet owners and the local community.

Dr. Anthony Brown
Medical Director
Whether it was a zoo book, an encyclopedia, or a television show, Dr. Anthony Brown sought out anything and everything to do with animals as a child. As he grew up and started getting an education, his passion never wavered. Dr. Brown decided to follow his dream and become a full-time veterinarian!
Dr. Brown grew up near Olympia and attended South Puget Sound Community College while working his first veterinary job at a nearby animal clinic. From there, he transferred to Washington State University, where he earned his Bachelor's degree in biology and his DVM degree. Dr. Brown joined the family here at North End Pet Hospital in March of 2007. His favorite thing about being a veterinarian is developing strong relationships with families and their pets. Watching animals grow up over time is truly rewarding for him! He's also a die-hard Seattle Seahawks fan and is thrilled to be living in a golden age of Seahawks football.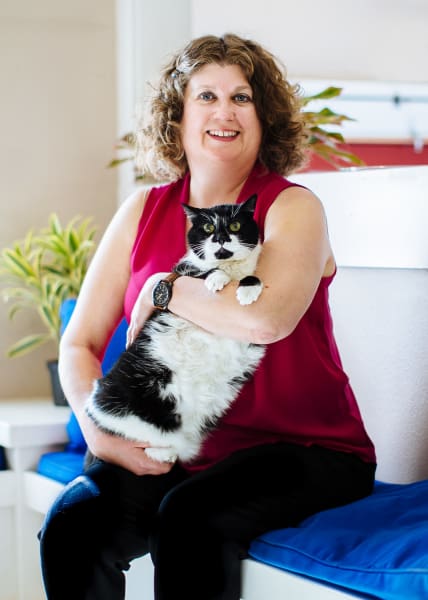 Dr. Nancy Vollmar
Associate Veterinarian
One day before performing at a local park with her high school marching band, Dr. Nancy Vollmar heard a dog yelping in an adjacent parking lot. When she went over to investigate, she found a beagle that had his leg caught up in the handle of a car. Since no one else was moving to help, Dr. Vollmar took it upon herself to free the dog and make sure that he was okay. Ever since that fateful day, she's known that veterinary medicine was her true calling!
Dr. Vollmar is from Toledo, Ohio, and began shadowing at her local veterinary clinic when she was still in high school. During her collegiate studies at the University of Toledo, she worked as an on-call veterinary assistant and volunteered at the Toledo Zoo before graduating with a degree in biology. After securing a job as a full-time zookeeper at the Baltimore Zoo, where she worked with everything from Kodiak bears, cougars, and jaguars to hyenas and prairie dogs, Dr. Vollmar was accepted to Ohio State University's College of Veterinary Medicine and received her DVM degree in 1990.Outside of her interests in the veterinary field, Dr. Vollmar enjoys hiking, backpacking, cycling, snowshoeing, skiing, attending concerts, visiting museums, and spending time with her adopted cat, Morty.