Our Team
When your pet needs care, we're here to help. North End Pet Hospital is staffed by a team of nurturing professionals, committed to the health and wellness of animals in Tacoma. We are dedicated providers of wellness care, preventative medicine, internal medicine, and more.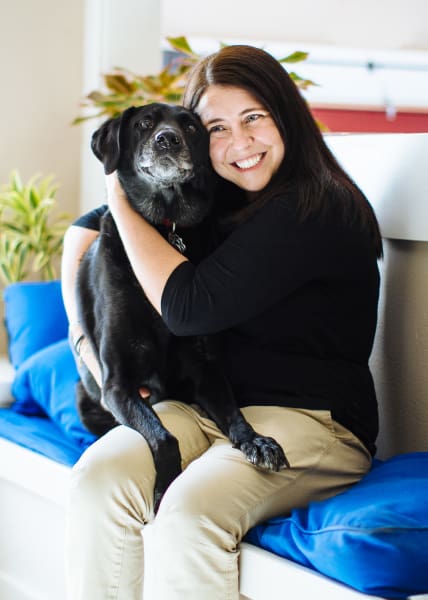 Jamie
Hospital Manager
Ever since she was little, Jamie has loved animals. Whether it was goats, cats, dogs, hermit crabs, or ducks, she was always trying to find ways to sneak animals into the house without her mom knowing. Born and raised in the Midwest, Jamie found North End Pet Hospital when she migrated to Tacoma and was searching for a people-oriented job that would allow her to work and be involved in the community she was living in. And the fact that her days would then be filled with the faces of cute animals, that was just icing on the cake. When not at the hospital, Jamie enjoys spending time with her husband and their dog, Charlie.
Kim
Licensed Veterinary Technician
Kim has always been drawn to animals of all types. As a LVT she is amazed by the feeling of satisfaction at the end of a day of helping sick or injured patients. Kim enjoys the variety that the profession brings, that no days are ever the same. In her position here at North End Pet Hospital, she loves getting to know the clients and patients, helping them through whatever the problem may be. At home, Kim has a dog named Daisey, who is a master of learning new tricks, especially if treats are involved.
Isabela
Licensed Veterinary Technician
After volunteering at the Humane Society, Isabela fell in love with working with animals and knew that a career in the veterinary field was for her. Since joining North End Pet Hospital, she has enjoyed getting to know all of the clients and the pets, especially the senior pets. She also has a passion for animal dentistry. At home, she has crew of rescued critters: Hannah, Ginger, and Prince Winston Uggaboo. She is hoping to live on a farm some day, giving her plenty of space to rescue and foster more animals.
Jaedyn
Client Service Representative
While she was back home in Michigan, Jaedyn began her career in the veterinary field as a kennel staffer and an assistant. Seeking a change in life, she moved across country to Tacoma and stumbled across North End Pet Hospital, fitting right in. Jaedyn feels that being able to work with animals everyday helps to curb her animal hoarding cravings, since she pretty much wants to bring home every critter that she sees. In addition to getting to work with animals everyday, forcing her love on the pets of the Tacoma area, Jaedyn loves her job at NEPH because "it is one of a kind" and she has found her family here.
Melanie
Assistant
Melanie joined North End Pet Hospital when she was looking for a change in life and took a leap in trying something she had never done before. She had been working in the coffee and food industry, but had always had an interest in medicine and, of course, who doesn't love animals! It wasn't long after becoming part of the North End Pet Hospital team that Melanie realized she had found a new happiness. She loves being part of the community and the relationships that are made here, as well as the fact that every day is full of new things. Outside of work, Melanie loves running, cycling, cooking, gardening, and being with her family.
Bri
Assistant
Bri decided to enter the field of veterinary medicine as she was looking for a job that would bring her happiness and she had enjoyed working with animals. She has not been disappointed. Since joining North End Pet Hospital, she loves how everyday is difference and she is constantly learning new things. Outside of work, Bri enjoys hiking, playing video games, cooking, and spending time with her pets, especially her "torti with an attitude," Mia.